16 December 2020: AeRO is delighted to announce the appointment of Dr Phil Gurney as Interim AeRO CEO, effective immediately.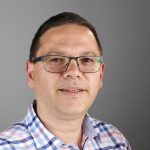 Phil has been a key member of the Australian eResearch landscape for a number of years, and has been part of the AeRO's Executive Committee since 2017.
Announcing Phil's appointment, AeRO Executive Chair Dr Jenni Harrison said: "I am thrilled that Phil has been appointed to the role of CEO for AERO. Phil is an excellent choice, as he has a  highly successful record in leading organisations within the eResearch sector. As a highly successful leader he is known for his collaborative leadership style, exploring business opportunities,  effectively responding to change and building performance. It has been my pleasure to Co-Chair the AeRO Executive Committee with Phil last year and I am looking forward to working with Phil as CEO in the forthcoming year. In terms of good governance, Phil has resigned from the AeRO Executive Committee to take up this role."
Reflecting on his appointment to AERO, Phil said: "I'm excited and honoured to be joining AeRO, leading change as AeRO grows and responds to new initiatives. It is an exciting time to be in  Research, with more and more researchers working on big data problems. Recent events have shown what can be achieved when our community comes together. I am especially looking forward to being part of the activity at outreach events such as eResearch Australasia, supporting AeRO as it leads and coordinates the sector, capitalising on the opportunities that the growth in this sector will provide."
Phil has over 20 years' experience at senior levels of commercial and R&D management, leading organisations in sectors as diverse as eResearch, health, telecommunications, energy and defence. Many of his roles have required managing relationships with multiple research, government and commercial stakeholders – experience that will be of great value at AeRO. Until November 2020 Phil was Director of Research Translation, IP and Commercialisation at RMIT, where he assisted researchers to deliver real-world impact from their projects. Prior to this he was CEO of QCIF, helping the company to deliver on its mission to improve the quality and efficiency of data-centric research in Queensland.
For more information on joining AeRO or to download a membership prospectus detailing our activities and benefits, please visit http://aero.edu.au/join