11th National AeRO Forum – "Identifying the gaps – Digital Research Infrastructure"
Tuesday 14th September 2021  – virtual event – 10-2 pm
The 2021 Forum afforded a key opportunity for the sector to come together at a critical time in the National Research Infrastructure Roadmap planning process https://2021nriroadmap.dese.gov.au 
The AeRO Forum focused on where the eResearch sector could and should be in 5 year's time, what are the gaps, and how we can get there. Access to the recordings and final roadmap submission will be made available when finalised. In the meantime, you are invited to read the AeRO submission to the National Research Infrastructure Roadmap process and watch the Forum Summary video.
Information from the panel sessions will be collated to provide an input into the roadmap process, and to help inform the next steps for the sector.
The Forum attracted senior staff from AeRO members, as well as eResearch leads from institutions, NCRIS capabilities, discipline communities, research centres, funding bodies, government and other agencies. If you are unable to attend personally, we would welcome your nomination of an alternate senior person to represent your organisation.
Q&A Session 1 – Theme "Identifying the gaps – infrastructure consumer view"

Steve McEachern – ADA/ANU
Andrew Lonie – BioPlatforms
Merran Smith – PHRN
Grainne Moran – UNSW
Moderator – Ian Duncan

Q&A Session 2 – Theme "Identifying the gaps – infrastructure provider view"

Rosie Hicks – ARDC
Paul Bonnington – Monash
Carina Kemp – AARNET
Ray Fleming – Google
Mark Stickells – Pawsey
Moderator – David Abramson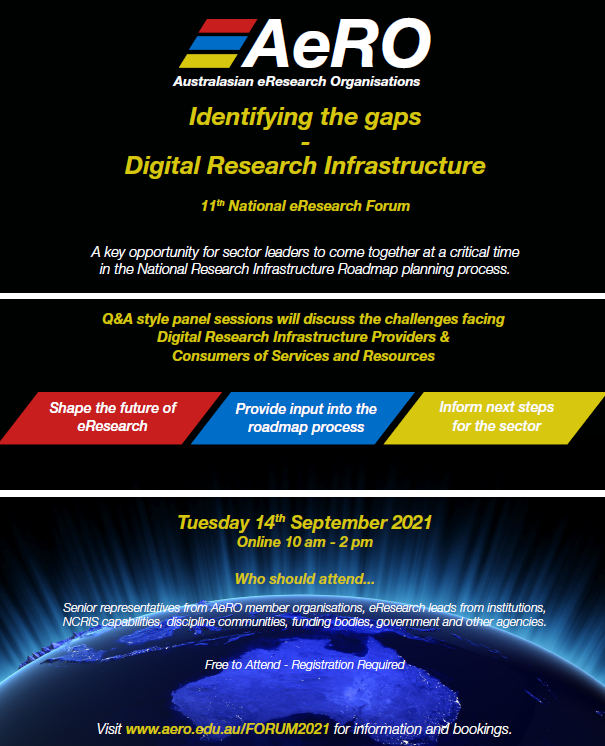 For more information, please contact loretta@aero.edu.au.